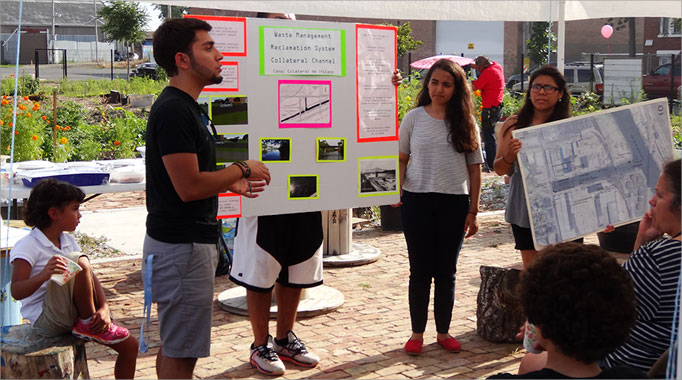 LVEJO takes great pride in its history of youth organizing. Our victories would not have been possible without community organizers, let alone, without young people from the community fighting for their environmental rights. Youth become more engaged when they're involved in issues around social inequality. Youth organizing is really about empowering youth to be the catalysts of change in their neighborhood, schools and families.
By working with youth, LVEJO hopes to accomplish the following goals:
River Front Re-development
LVEJO will remediate the Collateral Channel on 31s & Albany as well as develop a local re-development plan for the Chicago Sanitary Canal.
---
Food Justice
LVEJO will work with community partners to promote organic gardening and wellness programs that address health disparities to achieve food justice.
---
Brownfield Re-development
LVEJO will perform research with community members to identify and transform 10 brownfield sites in Little Village including a green walkway
---
Environmental Justice Education
LVEJO will work with local educators to develop a culturally relevant EJ curriculum that includes popular education activities about criminalization and gentrification in Little Village.
---
To learn more about LVEJO's youth leadership program, contact:
Joanna Ocampo, Youth Organizer
lvyouth@lvejo.org
(773) 762-6991