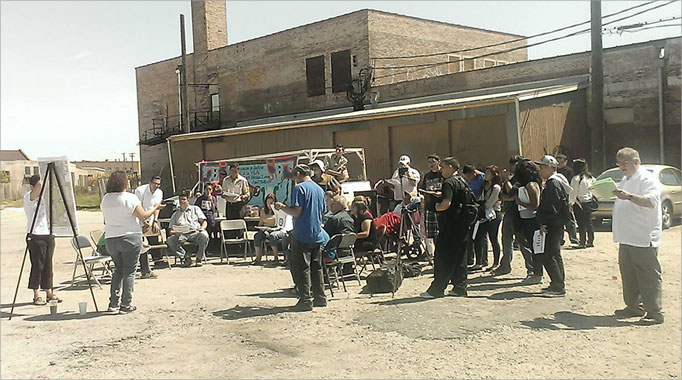 Community organizing is a core principle for LVEJO. Our victories wouldn't have been made possible without engaged community residents. Community residents are more engaged when they're involved in issues around environmental and economic inequality. Community organizing is leadership development for the sustainable self-determination of Little Village
LVEJO's campaigns are for everyone to be involved in. Moreover, our campaigns can be driven by the power that Little Village residents have. By working with youth and families LVEJO hopes to accomplish the following goals:
Brownfield Re-development
LVEJO will perform research with community members to identify and transform 10 brownfield sites in Little Village including a green walkway.
---
Food Justice
LVEJO will work with community partners to promote organic gardening and wellness programs that address health disparities to achieve food justice.
---
Just Transition/Energy Resiliency
LVEJO will oppose false market based solutions to the climate crisis and advocate for three legislative policies that support a just transition to a new economy based on renewable energy sources and family supporting jobs.
---
To learn more about LVEJO's methods and community leadership program:
Contact
Kimberly Wasserman-Nieto
Organizing and Strategy Director
kwasserman@lvejo.org
(773) 762-6991