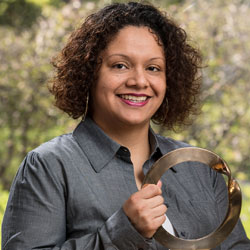 Kim Wasserman-Nieto
Executive Director
Kim is the Executive Director of the Little Village Environmental Justice Organization (LVEJO), where she has worked since 1998. Kim joined LVEJO as an organizer and helped to organize community leaders to successfully build a new playground, community gardens, remodel of a local school park and force a local polluter to upgrade their facilities to meet current laws. As Executive Director of LVEJO, she has worked with organizers to reinstate a job access bus line, build on the recent victory of a new 23 acre park to be built in Little Village, and continue the 10 plus year campaign that won the closure of the two local coal power plants to fight for remediation and redevelopment of the sites. Mrs. Wasserman is Chair of the Illinois EJ Commission. In 2013, Mrs. Wasserman was the recipient of the Goldman Prize for North America. Her biggest accomplishment to date is raising three-community organizers aged 18, 11 and 8.
Email: kwasserman@lvejo.org
---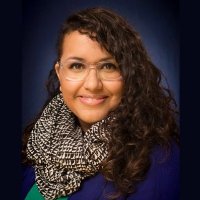 Juliana Pino, MPP, MS
Policy Director
Juliana Pino is the Policy Director at the Little Village Environmental Justice Organization. Born in Tuluá, Colombia, and raised in both Colombia and the United States, Juliana's personal life is transnational and her background is interdisciplinary. At LVEJO, Juliana analyzes, researches, and advocates for environmental justice in local, state, and federal environmental policy. Her work focuses on: advancing energy democracy and community self-determination in regulatory and policy arenas; creating just transition with meaningful collaborative and participatory management of shared environmental resources; and centering frontline community leaders as generators of transformative policy ideas and governance models. Juliana has recently joined the Board of Directors of the Illinois Environmental Council, a statewide organization that promotes sound environmental policy and protections for land, air, water, wildlife, and human health. Juliana is a graduate of the University of Michigan School of Natural Resources and Environment (MS, Environmental Policy and Planning; Environmental Justice), the University of Michigan Gerald R. Ford School of Public Policy (MPP, Public Policy Analysis), and the University of Chicago (AB, East Asian Languages and Civilizations). Prior to joining LVEJO, Juliana has contributed to the U.S. Department of Commerce's National Oceanic and Atmospheric Administration, the U.S. Department of Agriculture, the Great Lakes Commission, and the U.S.-China Chamber of Commerce, among others. Juliana is passionate about anti-oppression frameworks, is invested in anti-racism movement struggles, and is a big fan of animals. Email: jpino@lvejo.org
---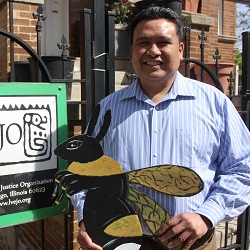 Dale Asis
Finance Director
Dale Asis is the President of the Bayanihan Foundation Worldwide, a US registered public charity dedicated to promoting Filipino diaspora philanthropy. He is also the founder of two coalitions: The Coalition of African, Arab, Asian, European and Latino Immigrants of Illinois (CAAAELII) and United Congress of Community and Religious Organization (United Congress). In 2009, he established a network of over 150 diaspora donors in Chicago that donate to over 50 countries worldwide. He earned his Masters of Arts Program in Social Sciences (MAPSS) at the University of Chicago. He is currently teaching and completing his PhD at Loyola University Chicago.
In 2007-08 he received a fellowship grant from the Chicago Community Trust Fellowship for Community Leaders. Mr. Asis also received the Ford Foundation Leadership for a Changing World Award. Over the last 18 years, Dale has spoken extensively on immigrant and diaspora philanthropy issues over the last 18 years. He also provides capacity building and organizational consulting to many ethnic community organizations in Chicago. Email: dasis@lvejo.org
---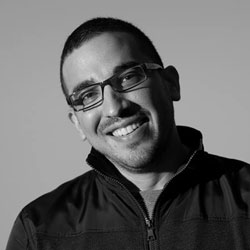 Antonio Lopez, PhD
Senior Advisor
Born in Gary, Indiana and raised in Chicago, Illinois, Dr. Antonio Reyes López received his doctorate in Borderlands History at the University of Texas at El Paso. Dr. López has written extensively on anti-poverty and anti-racist social movements in Chicago. He has also contributed to human rights, environmental justice, and economic justice struggles in Chicago and on the U.S./Mexico border. Prior to joining LVEJO, Lopez coordinated a mentorship program for youth incarcerated at Illinois Youth Center, St. Charles, and contributed to the Chicago Grassroots Curriculum Taskforce (CGCT). Email: alopez@lvejo.org
---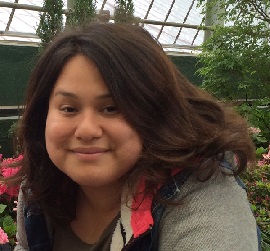 Mayra Galvez
Administrative Assistant
Mayra has been the Administrative Assistant at Little Village Environmental Justice Organization (LVEJO) since 2012. Mayra was born and raised in the Little Village neighborhood, graduated from Farragut Career Academy, and is currently attending Harold Washington Community College. When she is not working or at school, Mayra enjoys volunteering at several local animal shelters. Email: office@lvejo.org
---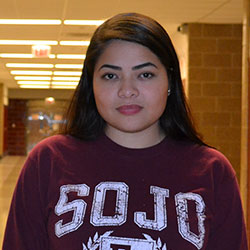 Karen Canales
Environmental Justice Education Coordinator / Toxic Tour Guide
Karen is the Environmental Justice Education Coordinator at the Little Village Environmental Justice Organization (LVEJO). She is currently a student at Harold Washington College and hopes to transfer to UIC and attain a B.A. in Chemistry. She hopes that her experience as a youth organizer and her educational journey will help her become an important role model in her community as a science teacher. Email:kcanales@lvejo.org
---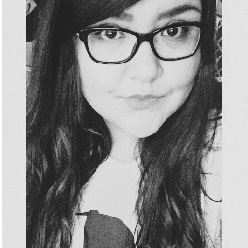 Nancy Meza
Community Organizer
Nancy is the Climate Justice Organizer at LVEJO. She was born in Los Angeles, California and was raised in the Little Village neighborhood of Chicago. She graduated from Farragut Career Academy High School and continued her studies abroad in Puerto Rico at the University of the Sacred Heart for 2 years. In 2013, she began actively volunteering at LVEJO, scaling her way up and becoming part of the LVEJO family officially in 2015. Email: nmeza@lvejo.org
---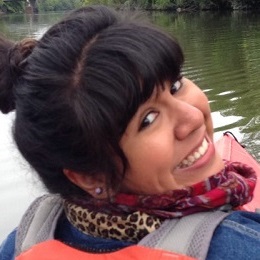 Joanna Ocampo
Youth Organizer
Joanna is the Youth Organizer for Little Village Environmental Justice Organization (LVEJO). Her main role is to work with local youth through LVEJO's Summer Internship Program.
She also ensures that youth are actively involved year round in all of LVEJO's current programming and campaigns. Born and raised in Chicago, Joanna graduated from Dominican University in 2011 with a BA in photography. Email: lvyouth@lvejo.org
---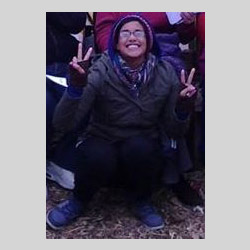 Viviana Moreno
Community Organizer
Viviana is the Climate Adaptation and Community Resiliency Organizer at LVEJO. She was born and raised in Venezuela and has been living in Chicago for the last four years organizing with several youth and community based organizations. She is currently pursuing a B.A. in Latin American Studies and Linguistics at Northeastern Illinois University. Email: climate@lvejo.org
---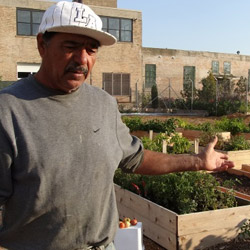 Fermin Meza
Urban Agriculture Organizer
Fermin is the Urban Agriculture Organizer has been with LVEJO since early 2008. Fermin started as a volunteer in the Campaign helping to build and organize around home and community gardens and a graduate of the PUDDJ Leadership Program. As one of the founding members of "Comite Primavera" Fermin helped create a community board to plan, carry out and fundraise for the Urban Agriculture Campaign. Voted in as President in 2009, Fermin oversaw the negotiation with Amor de Dios Church to use their property for a community garden, and worked with campaign leaders and volunteers to plan out, build, and maintain the Amor de Dios Garden. His experience with farming and livestock in rural Mexico has helped him in both outreaching to former farmers in the community and in maintaining the gardens.
---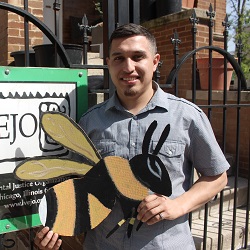 Miguel A. Saucedo
Education Coordinator
Miguel A. Saucedo is a native from Chicago's Little Village community and is a recent doctoral graduate from the Department of Educational Policy Studies at the University of Illinois at Urbana-Champaign. His dissertation focused on the academic achievement, suspension and expulsion, and criminalization of young Mexican American male students in Chicago Public Schools.  Email: msaucedo@lvejo.org
---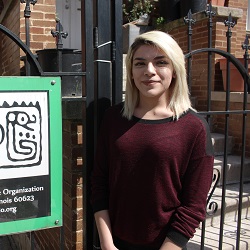 Citlalli Sandoval
Community Organizer
Citlalli is the Youth Co-Organizer at the Little Village Environmental Justice Organization (LVEJO). She was born and raised in the Little Village Neighborhood and graduated from Benito Juarez Community Academy. In 2015, Citlalli began volunteering with LVEJO and worked her way up, officially becoming a part of the staff in 2017. Email: csandoval@lvejo.org